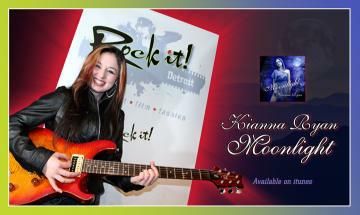 I want to extend a huge thank you to Lance Graves (Graphic Designer for Rock It Detroit) for creating my "Moonlight" itunes Banner. A special thanks to ROCK IT DETROIT (Steve Sexton & Melanie Hands for all the great photographs that are displayed on this page. I love you guys and couldn't be more blessed to have such special friends and supporters of my music.
Don Richard (Graphic Designer for Dream Domain for creating my "Moonlight" single cover. You both are extremely amazing talented people and I appreciate you so much. Thank you for supporting me and my music. YOU ROCK!
Testimonial ~ I am beyond ecstatic to be apart of Real II Reel's music family. All of Marshall's suggestions and ideas can be tossed around with an open mind and every note played with heart. I am always pleased with the outcome and quality of a song. Never have I been more comfortable working in the studio — Marshall's beautiful property and amazing team make that possible. ~ KIanna Ryan ~
Singer/Songwriter Kianna Ryan has a lot to be thankful for. Kianna has always had a love for animals and loved assisting her mother at work as a Veterinary Technician. Also raising 2 horses that were stabled in White Lake, Mi was just the kind of balance Kianna needed in a fast paced city life environment she grew up in. Growing up on the outskirts of Detroit she discovered an unconditional love for music at an early age. Picking up little bits of guitar and Piano licks, while every Saturday night she would front her family band. Kianna was spell bounded by The Blues, Motown and Hispanic music that has inspired her family for decades. Admiring Artists such as Bonnie Raitt, Susan Tedeschi, Etta James and Selena Y Los Dinos, her musical roots influenced her Blues/Pop sound.
Since then Kianna has been currently working on her first album with producer's Jaunty Meek (VP,A&R) and Marshall Block (President) of Real II Reel Productions. Real II Reel has produced music for "The Fighter" (Mark Wahlberg & Christian Bale) "The Love Guru" (Mike Meyers & Justin Timberlake) Real II Reel was recently inducted into the Rock & Roll Hall Of Fame Archives with their production of the song 'Just Like Romeo and Juliet" by The Reflections.
Kianna's organic Bluesy sound, which truly inspires and heals the soul for those who listen to her has caught the attention of many greats in the music business. With the encouragement from her producer's, Kianna has accepted invitations to collaborate with writers/Artists/Producers such as Nick Trevisick, Randy Lynch, Singer/Songwriter/Guitarist/Producer Blue Miller, played guitar for Bob Seger and currently touring with India Arie, Laurie Webb, Dick Wagner, Al Carmichael, Pat Cronley and Jimmy Henterly (Jimmy From Detroit).
Kianna's Co- Producer Randy Lynch (III Worlds) who's produced such acts as Eminem, Toni Braxton and Kanye West and many moreis currently working on some songs he's written for Kianna.
Nick Trevisick (Producer/songwriter/Artist) produced Katie Perry, Janet Jackson, Hayley Williams of Paramore and has currently produced the Canadian Artist Johnny Reid) described Kianna's voice as "Nice Tone". Nick contacted Kianna and they have been working closely together in Nashville/Michigan writing/producing a few songs for her new album. The rest is Rock N Roll history.
In Nashville with my producers Nick Trevisick and Randy Lynch at the Sound Kitchen
Singer/Songwriter/Guitarist/Producer, Dick Wagner ( toured with Alice Cooper, Lou Reed, The Frost) just simply said "I Love Your Voice". Kianna and Dick Wagner have also been collaborating.
Rock musician/songwriter Dick Wagner (right) working on a melody for the song he's writing for Kianna. His guitar technician ( on right) John Kearney. Kianna Ryan (left) and producer Marshall Block are heavily involved in this writing session at Real II Reel Productions in Fenton.
Winner of the 2009 Swartz Creek Idol Hometown Days high school division she continues to support SC idol every year where she first got her start and met the producer who has changed her life, Marshall Block.
A huge thank you to Blue Miller who spent the day writing and colaborating with me at his studio iin Nashville, It was such an honor to be there with Blue working on a project for my album.
Kianna Co-Hosted Talent Quest, an 18 week charity event benefiting the Whaley Center For Abused and Abandoned Children.
In 2011 Kianna was asked to be apart of a charity event for F.A.C.E. (Flint Area Community Ensemble) a program to bring the Flint, Michigan Community together and bring hope with a song. "We Gone make it". A huge shout out and much appreciation to Yusuf Bauswell, R'Chive and the whole staff and participants of F.A.C.E. for asking me to be apart of something extraordinary for our community, this project will always be something I am proud of and was honored to be apart of.
F.A.C.E. is a project spear-headed thru the vision of Yusuf Bauswell and Bernard Jackson as a sort of "We Are The World" song for the city of Flint. Yusuf along with Bernard and 11 other independent recording artists from the City of Flint have come together in a collaborative effort of talents to send a message of hope and peace to the community. What started out as 2 friends coming together with an idea has now turned into a major movement in the Flint, MI community. With both positive and negative emotions the song has made such headlines as the Flint Journal, ABC 12, and NBC 25 News.
Performed 2 days in a rowat the 2012 Dream Cruise with 2 Days Gone
Wow! What a fantastic time at the 2012 Woodward Dream Cruise!! I want to give a huge shout out to all the guys in 2 Days Gone and a special thank you to John Kearney. U guys ROCK!! I had so much fun and I soo appreciate the opportunity to share the stage with you! Thank you!! Many thanks to all my friends, fans and family that came out to support me and shared in all the fun and new memories. ♥ U ~ Kianna Ryan
IN THE STUDIO
REAL II REEL VIP AT LAUNCH IN CHICAGO
THEATRE WORK